Friday Feast #49: CSS Approaches to External Links - Brainstorms and Raves
Wahrlich alles über das Markieren externer Links.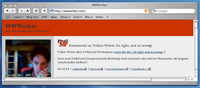 Da Volker Weber mich über ein Darstellungsproblem meiner Site in Safari informiert hat (freundlicherweise inkl. Screenshot, s. o.), muss ich mich wohl doch näher mit dem Thema beschäftigen. Außerdem geht WWWorker in Opera (7.02 auf WinXP) und Safari aus dem Leim: horizontale Scrollbalken sind blöd.
In Ermangelung eines Mac werde ich wohl auf dem Desktop wieder Linux installieren, schließlich basiert Safari auf KHTML/Konqueror.